Alan Beverley 100mile Pennine Bridleway Trek 2018
by Amber Valley Info on Monday 24 December 2018


---
On Tuesday 23rd October, Alan Beverley donated £1852.90 to his chosen Charities British Heart Foundation, Leuka, Cancer Research, Derbyshire & Leicester Rutland Air Ambulance (DLRAA) & Rotary Club of Ripley. In addition, St James's Place Foundation will benefit from 50% of all funds raised as St James's Place Wealth Management Group matched what was raised.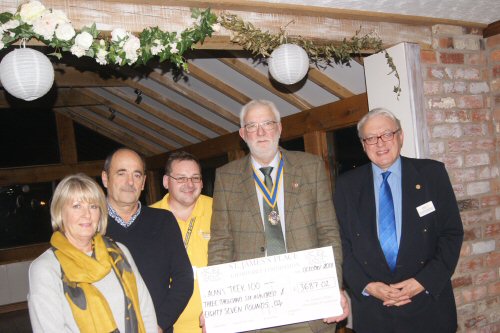 Alan Beverley presented representatives of some of these charities with the Cheque at one of the Rotary Club meetings and followed this with a power point presentation of his journey at Lumb Farm in Ripley. The money was raised when Alan chose to walk a second part of the Pennine Bridleway which was just over 100miles with the support of Max, one of Alan's Harness Ponies. Max's was taking on the role of Pack Pony and carrying all of his camping gear. He left Hebden Bridge on 10 August and aimed to arrive at Kirkby Stephen in Cumbria on 16 August. But managed to complete this one day earlier. Which was truly amazing with the harsh weather they both went through.
Richard Fletcher said: "We were delighted to be presented with the money from Alan". He has done a fantastic job, and the money raised will help so many people. Alan also said he hopes this highlights a much-underused safe Pennine Bridleway for walkers, cyclist and horse riders. The trail is around 205 miles (330 km) long, from Derbyshire to Cumbria.
The British Heart Foundation fund research to beat the world's biggest killers. They fund over £100 million of research each year into all heart and circulatory diseases and the things that cause them. Heart diseases. Stroke. Vascular Dementia. Diabetes. They're all connected, and they're all under their microscope.
Leuka was founded in 1982 by one of the late Professor John Goldman patients, Lester Cazin, whose dying wish was to find a cure for leukaemia by funding research. Professor Goldman, Leuka's founding chairman, was a pioneer in bone marrow transplantation for Chronic Myeloid Leukaemia (CML) who wanted to see the latest research breakthroughs brought from bench to bedside as quickly as possible. Today, they continue in his footsteps and we lead the way in curing leukaemia and turning scientific advances into clinical care for over 30 years
Cancer Research UK is a cancer research and awareness charity in the United Kingdom and Isle of Man, formed on 4 February 2002 by the merger of The Cancer Research Campaign and the Imperial Cancer Research Fund. Its aim is to reduce the number of deaths from cancer. As the world's largest independent cancer research charity, it conducts research into the prevention, diagnosis and treatment of the disease. Research activities are carried out in institutes, universities and hospitals across the UK, both by the charity's own employees and by its grant-funded researchers. It also provides information about cancer and runs campaigns aimed at raising awareness of the disease and influencing public policy
DLRAA was formed in 2008 and has carried out more than 16,200 Rescue missions and saved many lives in the process, each rescue mission costing on average £1,700 with DLRAA completing on average 5-6 missions every single day, 365 days a year
Rotary Club of Ripley was founded in 1925 by a small group of businessmen keen on supporting both the local and International Community, yet at the same time enjoying each other's companionship. Since then we have raised over £100,000 for various causes and provide on-going help to both the young and the elderly both Internationally and within the Local Community.
St. James's Place Charitable Foundation has been supporting those in need since 1992, making a positive and lasting difference to people's lives by awarding grants to charities registered in the UK to assist them in the incredible work they do every day. So far, we've raised and distributed over £75 million to thousands of charities.