WREN at Woodside Farm Nature Reserve
by Amber Valley Info on Wednesday 7 November 2018


---
At the beginning of June Derbyshire Wildlife Trust were delighted to announce that they had received a grant of £43,189 from the WREN Communities Action Fund, enabling the Trust to transform the habitat and visitor experience at Woodside Farm Nature Reserve in Shipley, Ilkeston. Just four months later the reserve has a new lease of life, with work continuing into December and beyond.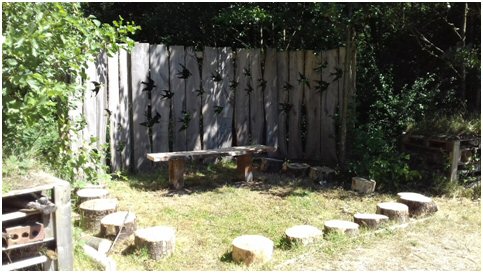 Progress at the reserve has included the purchase of tools and equipment for volunteers. A contractor and team of local volunteers have created a circular path that is already in use, saving £1,100 via 22 volunteer days, which made it possible to purchase personal protective equipment and apparatus for the volunteers to use elsewhere on the project. Visitors have commented on the ability to see new parts of the reserve, and get away from the busier Nutbrook Trail to walk through the woodland.
Derbyshire Wildlife Trust are expecting delivery of nesting boxes and animal homes, which should be installed at the beginning of November by their team of volunteers. Six benches have been installed to date with more to follow so that visitors can enjoy the wildlife pond on the edge of Shipley Lake. The creation of a woodland learning area is well on its way too, with volunteers spending time clearing it. The whole reserve will benefit from new and clearer signage so visitors can find their way round confidently and with ease.
Things haven't stopped there; Derbyshire Wildlife Trust has commissioned two sculptures that will inhabit the reserve's trails, including a giant spider and wildlife archway, the new sculptures will add to the others already at Woodside and will form a complete circular trail that visitors can easily follow. These will help visitors to identify species to be found along the trails, and enable everyone to think about wildlife more inclusively. There will be solar panels installed for bird box cameras, which will be up and running shortly. Paths have been greatly improved with stonework, while steps have been built into the steep bank. There is a real emphasis on accessibility for all across Woodside Farm Nature Reserve.
The transformation of the Woodside Farm Nature Reserve was made possible by the generous grant from the WREN Communities Action Fund. This grant, and the time from those who offered their skills and services have been invaluable to the preservation and enjoyment of wildlife. Derbyshire Wildlife Trust launches projects such as this to ensure Derbyshire's wildlife and wild spaces are protected.
WREN is a not-for-profit business that awards grants for community, conservation and heritage projects from funds donated by FCC Environment through the Landfill Communities Fund.
Cheryl Raynor, WREN's local grant manager says: "It's always nice to see something we have funded start to take shape. We're delighted to be supporting such a worthwhile project and look forward to it benefiting the local community and visitors to the area."
For more information about WREN funding contact Cheryl Raynor at cheryl.raynor@wren.org.uk or visit http://www.wren.org.uk/
If you would like to know more about Woodside Farm Nature Reserve, including directions, please visit www.derbyshirewildliftrust.org.uk