Ripley Town Council announce the 2018 Certificate of Merit award winner.
by Amber Valley Info on Wednesday 7 November 2018


---
Heage resident, Mrs. Jean Fardoe has been presented with the Certificate of Merit Award from the Mayor of Ripley, Councillor Paul Lobley.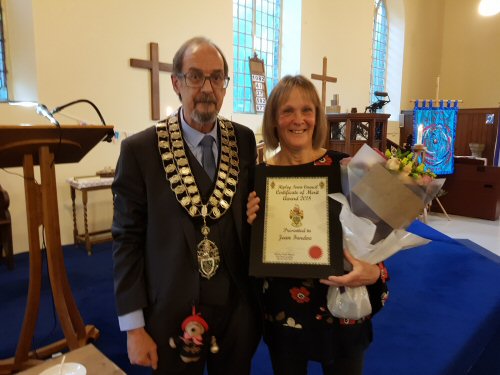 Councillor Lobley gave the presentation of a certificate and bouquet of flowers at the recent Civic Service which was held in St. Luke's Church in Heage.
Mrs. Fardoe was nominated for the award by her sister for her dedication and commitment over the past 30 years to charitable work and volunteering in her local community.
Since 1986, Mrs. Fardoe has organised annual garden parties at her home in Heage for her family, friends and the local community, to raise money for Action Medical Research. Over the years she has raised over £133,000 for the charity.
Mrs. Fardoe said, 'When I was a midwife, I delivered a baby boy who had Cerebral Palsy. This spurred me on to raise money for a charity which I felt would research his condition and help future children born with the same and other conditions'. She added, 'Sadly, the boy passed away at the age of 18 months and this gave me a bigger drive with my charitable efforts'.
Mrs. Fardoe's first garden party raised around £100 and this year's event raised £5,000. Her annual garden party is an event supported by an increasing number of volunteer helpers and attended by hundreds of people every year. For the last 20 years, she has also organised a Santa sleigh each Christmas which goes around Heage and Nether Heage and an annual fundraising walk ending at her home for homemade soup and cake.
Councillor Lobley said, 'It's an honour to present Jean with this award. Ripley Town Council received several nominations for other outstanding members of the local community but the work that Jean has done and the amount of money she has raised over the years, stood out to the panel of judges.'
Nomination details for the 2019 Ripley Town Council Certificate of Merit will be available next Spring/Summer on the Council website, social media pages and in the newsletter.