Motifs (Since 1991) Get The Ball Rolling With Football Sponsorship Deal
by Amber Valley Info on Friday 19 October 2018


---
An Ilkeston based garment print and embroidery firm has announced a special sponsorship deal with the very first Treetops Hospice Care Charity Football Club, in a bid to fulfill a young manager's dream.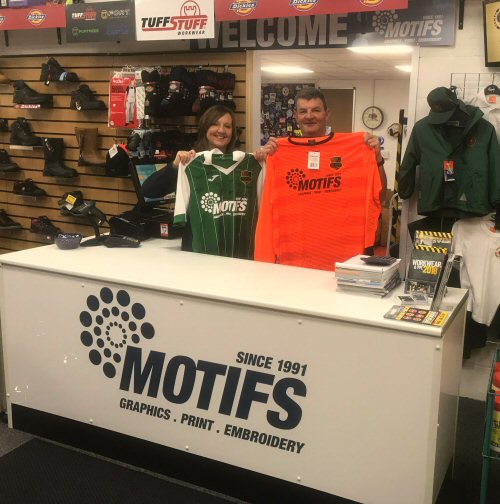 The team at Motifs were approached by club manager, 14 year old Danny Draper, who was seeking sponsorship for a brand new football kit and Motifs provided him with the ultimate hat-trick, by donating a full home kit, a full away kit and a goalkeeper strip.
Kevin Hatton, Director of Motifs, said: Treetops Hospice Care is very close to my heart. The charity provided excellent respite and care for my Dad, John Hatton, in his final year. The team at Treetops do a fantastic job and my Dad loved every visit, so when we were approached to support the new team, it was a very easy decision for us to make."
Kevin continued: "When we were approached by Danny, we were impressed by his maturity and what he had achieved so far and his plans for the future. I really admired him for putting the team together, arranging fixtures and managing a team of players much older than himself. Most young people would find this daunting - I don't think I could have done it when I was 14."
The firm invested £1500 in the team, providing them with a full home and away kit, in addition to the goalkeeper strip, all branded with the team's logo - Kevin and Danny designed the kits together.
Kevin added: "Sponsoring the team seemed like the perfect fit for us as a business. We are fully on board with giving something back to the community in which we are based. The new kits are already being used and we hope that it this will give the team the boost to help them flourish."
Treetops Charity Football Club is a community team, set up in Ilkeston, which is hoping to attract donations for Treetops Hospice Care of £1000 in the first year. Mary Rose, the Senior Community and Events Fundraiser at Treetops, said: "We are so very grateful to Motifs for sponsoring the Treetops Charity Football Club. It's a wonderful way to support a local team, which was set up and is managed by Danny. We wish the club every success on the pitch – they'll look amazing in their new kit!"
Motifs has been supplying uniforms to various industries along with customising and branding clothing for sports and leisure groups since the company was founded in 1991. All work is carried out in its Ilkeston workshop by experienced craftspeople using state of the art equipment and machinery.
For more information about Motifs, please call 0115 871 8599 or call in to the trade counter @ Ilkeston Workwear Centre, The Ropewalk Ind. Estate, Ilkeston, Derbyshire. DE7 5HX.
About Treetops Hospice Care
Treetops Hospice Care in Risley is a registered charity (no.519540) that provides nursing care and emotional support for adults in Derbyshire and Nottinghamshire, with illnesses such as cancer, motor neurone disease and multiple sclerosis. It also supports their carers and families.
· Support and Information Specialist support from diagnosis onwards, for anyone affected by a life-limiting condition.
· Day Services The purpose built Unit in Risley offers physical, emotional and social care to adults diagnosed with a life-limiting illness.
· Hospice at Home Working in patients' own homes, a team of nurses and health care assistants provide care for patients at the end of their life.
· Therapeutic Services For any adult, child, young person or family who has been bereaved or is dealing with a life-limiting illness.
Treetops Hospice Care must raise over £3 million each year to run the hospice. A third of this comes from local healthcare commissioners. The remaining two thirds is raised through fundraising events, donations, lottery memberships, shops, and gifts in wills.
Treetops was ranked 6th in the Sunday Times 100 Best Not-for-Profit Organisations to Work For 2018 and awardedthree-star accreditation for extraordinary levels of staff engagement.
Treetops Hospice Care, Derby Road, Risley, Derbyshire, DE72 3SS
0115 949 1264 | www.treetopshospice.org.uk
Registered Charity Number 519540