Ripley Town Council win Excellence Award for Derbyshire Council of the Year.
by Amber Valley Info on Thursday 11 October 2018


---
Ripley Town Council were presented with the Excellence Award for Council of the Year by DALC (Derbyshire Association of Local Councils) at a presentation at Derby County Football Club on Tuesday 9th October 2018.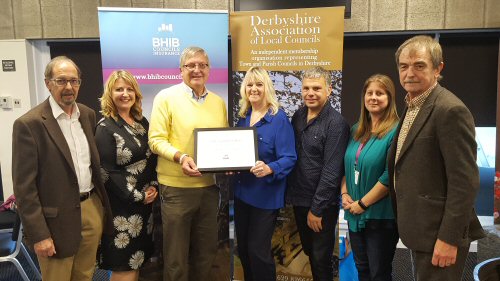 Ripley Town Council were selected to win this respected award for being proactive in organising and leading projects for all ages across their community.

Ripley Town Council aims to promote the Township of Ripley with the magnificent Christmas lights being a major attraction during the festive season.

Over the past year, Ripley Town Council have organised the Big Day Out at Midland Railway – Butterley which was attended by over 1500 people from the township, as well as an Extreme Wheels Roadshows for 15 weeks over the summer, for young people who love skateboarding and BMXing.

Each year, they put on a Spring Market, Well Dressing and Christmas Market for people to enjoy which are always well attended and supported by the local community. Free children's rides and entertainment are always provided. Throughout the summer months, Ripley Town Council provide bands on Crossley Park on Sunday afternoons for residents to go along to enjoy and listen to. The Council also organises the official light switch on event on Ripley Market Place.

The award win follows Ripley Town Councils recent office relocation into a more prominent area within the town, where the public have better access to be able to talk to the Council about any concerns they have.
The Council is also committed to helping with environmental improvements within the Ripley Township and have allocated a £5000.00 award for local groups applying for an environmental improvement grant.
Grants to local groups and sports clubs totalling over £18,000 have been given from the Council, back into the local community. Ripley Town Council, in partnership with Amber Valley Borough Council for Greenwich Park Sports Partnership, have donated £200k to rebuilding the sports pavilion and community facility.
DALC Chief Officer, Wendy Amis said, 'Ripley Town Council are well deserved winners of this prestigious award. The judges were extremely impressed by their commitment to the local community and their many projects, schemes and grants aimed at improving the lives of local people. Many congratulations!'

Ripley Town Council, said, 'We are thrilled to be recognised in this way. To be judged the best of 251 councils in Derbyshire is something for Ripley to be proud of'.