Plans drawn up to roll out vehicle charging points in Derbyshire
by Amber Valley Info on Thursday 11 October 2018


---
Derbyshire County Council are drawing up plans to install electric vehicle charging points across the county over the next 10 years.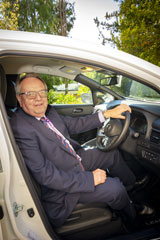 DCC are engaging with a range of partner organisations, across the private and public sector, to support the uptake of low emission vehicles across the county.
It is all part of their commitment to cutting carbon emissions and improving air quality in Derbyshire.
Councillor Tony King, our Cabinet Member for Economic Development and Regeneration, said:
"Protecting and enhancing our environment is one of our top priorities and we need to act now to cut carbon emissions in the future.
"Electric vehicles are now entering the second hand market and if we want to encourage more motorists to make the switch then we need to make it as easy and attractive as possible.
"That means making sure there are plenty of public charging points conveniently located for people to use across the county.
"This is a golden opportunity for us to help encourage use of low carbon vehicles to cut the amount of pollution generated on Derbyshire's roads and I'm pleased that we're working jointly with partner organisations to plan ahead now to prevent it becoming an issue in the future. It demonstrates that the council is leading the way in supporting, not just the public, but industry as well, as we head towards a cleaner, greener economy"
The low emission vehicle infrastructure policy is expected to be finalised and considered by DCC Cabinet members early next year.