The Tractors are at Heage Windmill again!
by Amber Valley Info on Saturday 14 April 2018


---
Old tractors are fascinating machines and we are delighted to welcome once again a collection of various models of these machines to our Grade 2* listed windmill for the 12th consecutive time!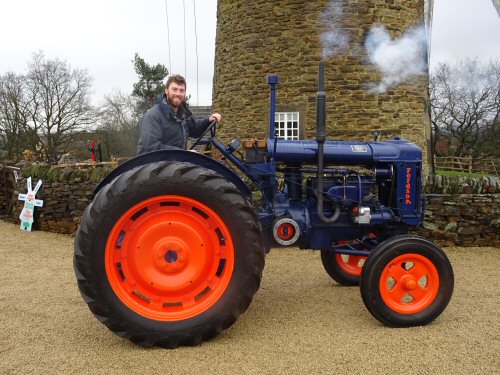 Tractors always attract the crowds and the ever popular collection of Vintage and Veteran machines will be at Heage Windmill on Sunday, April 29th from 11-00am until 4-00pm. These old pieces of equipment complement the 220 year old windmill and they were responsible for changing farming forever, making horses, as a source of power, almost redundant. This year we expect there will be at least 20 at the mill and these will include a 60 year old Fordson Major, some David Browns, together with Field Marshalls and Massey Fergusons, most of which have been restored to pristine working condition. The mill will award a certificate to what is judged to be the 'Tractor of the Day'. John Allsop, who organises the Tractor group, said 'We always enjoy coming to Heage windmill – we all love our tractors and but also the lovely windmill '.
The 2018 season will be the 16th since restoration of the mill in 2002 and she is now in full working order. Light refreshments, and of course tours of windmill, will be available.