Ripley Safer Neighbourhood Policing Team help local school achieve sustainable travel award
by on Friday 30 June 2017


---
Officers from the Ripley Safer Neighbourhood Policing Team have helped a local infant school achieve a national award for encouraging safe, active and environmentally friendly travel.
Youngsters and staff at Lons Infant School are now celebrating having picked up their Modeshift STARS Silver award.
It's after work with the Ripley Safer Neighbourhood Policing Team and Derbyshire County Council's Sustainable Travel Team on a number of initiatives throughout the school year, including:
A learn to ride programme supported by the Police Mutual to purchase Ped-i-bal bikes which help improve children's cycling skills
Scooter Smart training to encourage the safe use of scooters on the pavement
Scooter and bicycle security marking

Encouraging parents to park at the nearby Sea Fish restaurant and walk to school to support National Clean Air Day, which took place on Thursday, June 15, and help reduce congestion outside the school gates.
The pupils also created artwork inspired by famous artists to illustrate the role of police officers as 'people who help us' and as role models for cycling.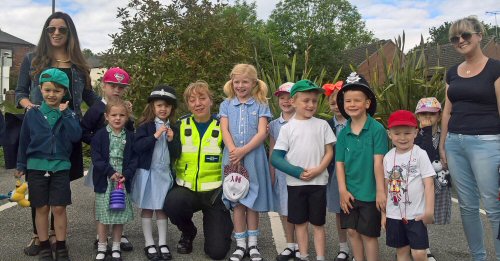 Their displays are now being featured on Modeshift wall planners which have been distributed to schools throughout England and promote active travel campaigns for the 2017/18 academic year.
Amanda Lewis, Headteacher at Lons Infant School, said: "It has been fantastic to work alongside the Ripley Safer Neighbourhood Policing Team, not only have we received the STARS award and won the STARS art competition, but our children have benefitted from being able to learn to ride a bicycle, as well as developing a really close rapport with the officers as people who can help and inspire them in many different ways."
PC Neil Hopwell, of the Ripley Safer Neighbourhood Policing Team, is one of the officers who has worked with the school.
He said: "Well done to all the youngsters and staff at the school for achieving their Modeshift STARS Silver award. We hope that everyone involved will have enjoyed taking part in the initiatives, feel proud of their achievements and really taken on board the benefits of active and safe travel."
Modeshift STARS (Sustainable Travel Accreditation and Recognition for Schools) is the national schools awards scheme that has been established to recognise schools that have demonstrated excellence in supporting cycling, walking and other forms of sustainable travel.
For more information about the scheme visit: www.modeshiftstars.org